Welcome to the Center for Penguins as Ocean Sentinels!
The Center for Penguins as Ocean Sentinels, or the Penguin Sentinels Project, started in 1982, is sponsored by the University of Washington, the Wildlife Conservation Society, the province of Chubut, Argentina, and many friends of the penguins.
An adult Magellanic penguin brays as he returns to his nest.
If we could, we would bray like penguins to announce the publication of Penguins: Natural History and Conservation!
News and Updates
(Check out Past news stories)
November 27, 2013
Galapagos penguin nests and Dee Boersma on KOMO 4 News!
Check out Dr. Boersma's interview on Galapagos penguin "condos" and see clips from the video produced on the project!
November 14, 2013
Penguin Inspired Propulsion System
Here's a great article about a penguin-inspired propulsion system!
October 25, 2013
Earth Island Journal: Trading Places
Check out this article about climate change and the increased distance many species must travel for food, featuring Dee Boersma!
October 7, 2013
NY Times: Zoos Aim to Ward Off a Penguin Killer

Here's an article where Dee Boersma is quoted discussing malaria and Magellanic penguins.
September 20, 2013
Funding to Increase Galapagos Penguin Population Awarded!
Great news for the Center for Penguins as Ocean Sentinels and Dr. Boersma!!! Disney Worldwide Conservation Fund has helped fund Dee's project to help Galapagos penguins and increase their population! Read more in this great article written for the UW College of Arts and Sciences.
August 9, 2013
Helping Galapagos Penguins Stay in the Shade!

Check out this great video of Dee and her team building nests for penguins in the Galapagos to help with the impacts of climate change! Dee is down there now checking the nests and seeing how many are being used.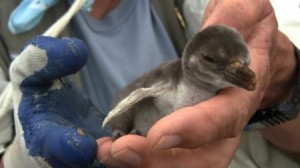 July 2, 2013
Congrats to our grads!

UW's College of Arts and Sciences made a video to celebrate the end of the school years. There are a few appearances from familiar faces in the Penguin Lab. Here's to a job well done!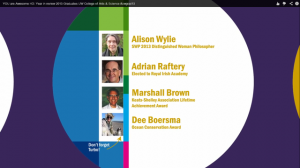 April 25, 2013
Happy World Penguin Day!

For more information about what you can do to help penguins, watch an interview with Dee Boersma and Popi Garcia Borboroglu.